In this article we'll cover some of the most common dog theft statistics. This is a serious problem with serious consequences. Use the table of contents below to skip down to the facts and stats.
But first a story…
In 2010 I was attending Bridge Day in Fayatteville, West Virginia with some friends. Face jumpers get that one day to jump off one of the longest and highest steel arch bridges that spans the New River Gorge.
We we're pumped and excited to see all the jumpers, walk the bridge, and hang out. One of my friends brought her golden retriever mix.
When we arrived the staff pointed out that no dogs were allowed on the bridge. No worries. My friend though we could tie up the dog for a bit, walk the bridge, then come back in a few minutes and head out.
Sadly, when we returned the dog had been stolen. My friend was devastated. It had never crossed our minds that anyone would do this. We weren't even gone that long.
Yes yes, hold your judgements and "I told you so" thoughts. We never in a million years would suspect anyone doing this.
And that's why we wanted to compile this article. So others, similarly naive as us, never have this happen.
Without further delay let's get on to the topic of dog theft.
The Top Dog Theft Statistics
These next stats come from a UK study of pet theft. They reviewed records from dozens of police stations to pull these numbers. They are some of the most reliable on the web.
Sadly this type of study has not been done in the US yet. Let's make it happen Petfinder!
1,788 dogs were stolen in the UK and Wales in 2016. That number rose to 1,909 in 2017 (MDPI).
Of the 1,788 dogs stolen in 2016 in the UK, only 64 (3.5%) turned into criminal or civil charges (MDPI).
In 2017 the most commonly stolen dog breeds were the following (MDPI) [Percent change up or down since 2016]

Staffordshire Bull Terrier – down 15% since 2016
Crossbreed – down 22%
French Bulldog – up 27%
Chihuahua – up 4%
Jack Russell – down 13%
Labrador – up 42%
Cocker Spaniel – up 77%
Bulldog – down 30%
Husky – up 260% – thank you Game of Thrones 🙁
Springer Spaniel – up 88%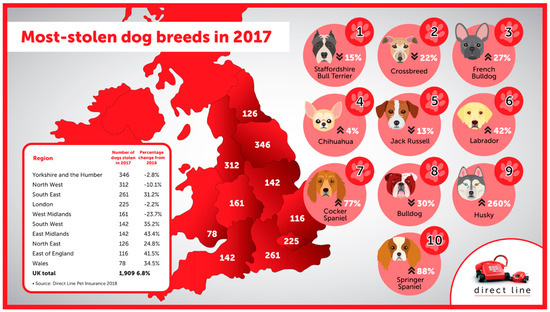 National Pet Theft Awareness Day is February 14th
Most states consider dogs "personal property."
Only 15 states have pet theft laws. These states are:

California
Connecticut
Delaware
Louisiana
Michigan
Mississippi
New Hampshire
New York
North Carolina
Oklahoma
Rhode Island
Virginia
Texas
Washington
West Virginia

Stealing a dog, horse, pony, mule, cow, steer, bull, or calf in Virginia is a Class 5 Felony punishable by up to 10 years in jail (Virginia State Law).
Theft of ANY ANIMAL in Louisiana that costs more than $500 is punishable by hard labor up to 10 years (Louisiana State Law).
12 Ways to Protect Your Dog and Prevent Dog Theft
Don't leave your dog alone in public places
Take your dog with you into the store or leave your dog at home
Don't leave your dog in an unlocked car (or in a car at all if possible)
If a stranger asks about you or your dog during a walk be friendly but don't give out personal details like where you live or your dog's breed (people steal breedable dogs for money)
Spay or neuter your dog and make this obvious (on the tag). This helps prevent breeder theft.
Don't leave your dog tied up alone
Change your daily walk locations and times – spice things up so thieves can't case your patterns
Only use trusted dog kennels, doggie daycare, and well reviewed Rover and other online sitters.
Be wary of using craigslist to find people to watch your dog – do a background check
Keep your dog inside if you aren't at home
Know where your dog is at all times
Use dog tags and keep them on plus get an RFID chip and make sure it's activated and functioning.
What To Do If Your Dog Gets Stolen (13 Steps)
Act Quickly – the faster you respond the more likely you'll get your dog back
Call the police and report everything
Report the theft on the Nextdoor app. Sign up for an account and do this if you don't have one. Include your dog's pictures.
Report the theft on neighborhood Facebook groups. Include pictures of the lost/stolen dog.
Hang flyers around your neighborhood and at your local grocery stores.
Offer a reward. After breeder theft the next most common reason is to sell the dog directly followed by getting the owner's reward.
Tell all your neighbors. Give them flyers.
Check for local missing pet websites and post there.
Visit all your local shelters, give them flyers, and report the theft.
Check all local breeders within 100 miles. Report the theft and give them flyers. Stealing special breeds is the most common reason for dog theft.
Check craigslist for dogs for sale or special breeds for sale. Contact all that match your dog.
Check other online sites for dog sales in your area

Check online and with the local ASPCA or PETA to see if they know of any dog fighting clubs. This is illegal and will be hard to find. It's less common but still happens. Dogs are stolen to act as "bait dogs" for fighting clubs.
Do NOT approach suspects that might have your dog. Call the police and get them involved.